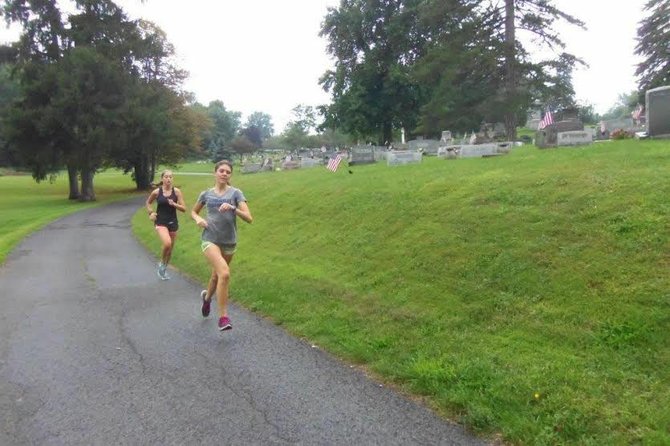 Skaneateles — "We're essentially the same team as last year when we finished third in the state (in Class C), but we're so different at the same time," said Jack Reed who is once again coaching the Skaneateles girls cross country team with Rob Tuttle.
It's a daunting task to win a Section III title, because so much has to go right, but the challenge increases enormously when teams seek to repeat. For the Skaneateles girls cross country team, that's the position in which it found itself just a few days before its first race of the season at the East Syracuse-Minoa Invitational.
The top three spots seem to be firm with state runner-up Kaitlyn Neal, returning for her junior season. She'll be joined by senior Liz Dwyer and a vastly improved Julia Willcox, who enters her sophomore year.
"We're going to depend on those three to finish up front, and they should," said Reed. " Really, those girls can lay it out."
But cross country is a team sport, so the big question involves the formation of a viable pack that can rise to the challenge and shut the door on the Lakers' opponents like they did in last year's undefeated season.
The coaches are looking for continued development from senior Jenn DeRosa, junior Finan Malcolm and freshmen Natalie Condon and Zoe Osborne. The group has talent, according to the coaches, who know they have to be patient while figuring out which buttons to press.
"They're all different and it'll take time to figure them out and get them to jell," said Tuttle. "Once we solve the puzzle, we should be in a good place."
The wild cards are Elsa Soderberg and Makena Gorman. Both are talented athletes. Soderberg was recently cleared to rejoin the team and the senior ran incredibly well at her first practice. Gorman missed three weeks of cross country training while she worked on her first passion, snow skiing.
If these two can make it all the way back, Reed and Tuttle believe they can win another sectional championship.
"Overall, we'll have to wait and see where this season takes us," said Reed. "The ingredients are here but we'll have to see how the academic year affects the girls.
"The demands on them increase every year, and they're especially demanding of themselves. The school year takes a toll, but, we're more optimistic than pessimistic."
Vote on this Story by clicking on the Icon