In response to questions from village residents, village officials again addressed the matter of high power bills for Skaneateles, at its March 13 meeting.
Trustee Sue Jones said she brought it up because she had heard from two residents with questions about unusually high utility bills for February.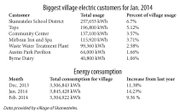 "People were concerned and really wanted to know the facts," Jones said.
The village power utility purchases its power from the New York Municipal Power Authority. If it experiences a peak demand that exceeds its given hydroelectric power allocation, it must use "purchase power" to cover its remaining needs, which typically happens six or seven months a year, Director of Municipal Operations Bob Lotkowictz said.
Residents' power bills have been high this winter, due to increased usage and the increased need for purchase power, Lotkowictz said.
Purchase power rates have been abnormally high this winter due to a nationwide increase in demand for electricity and natural gas caused by an especially cold winter, according to a statement released by the power authority in February.
Officials also addressed the notion that increases on electric bills have been caused by the Skaneateles YMCA and Community Center, which was converted to village electric from National Grid in December 2013.
According to figures provided by Lotkowictz, the community center used 137,100 kilowatt hours (kWh) in January 2014, accounting for 3.5 percent of the village's total usage. The village's total need for purchase power in January was 1,194,000 kWh — a 14 percent increase from last year (see sidebar).
Though the community center has contributed to the recent increased usage, it provides a level load on the system. Managing the peaks and valleys of usage are what can prevent the village from needing to use too much purchase power, Lotkowictz said.
"My point is 3.5 percent does not cause everybody's bill to go up three times," Lotkowictz said about the data.
(Continued on Next Page)
Prev Next
Vote on this Story by clicking on the Icon