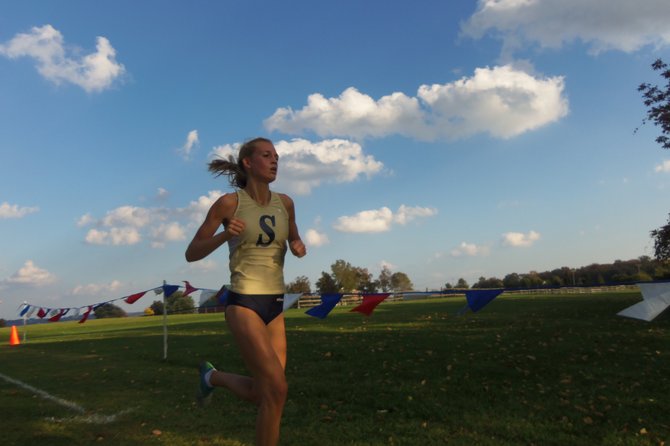 Skaneateles — Jack Reed could tell, even before the Skaneateles girls cross country team's meet against visiting Hannibal Wednesday at the Polo Grounds, that Liz Dwyer was ready to step up.
"I could tell during her warm-up that she was in a different place," said Reed of his junior standout, who easily won last Wednesday's dual meet as part of the Lakers' 20-35 decision over the visiting Warriors.
"She (Liz) was bouncing around, light on her feet, smiling and full of energy. Every stride pulsed with power. It was quite the sight," added Reed. "When they look like that at the starting line, there's nothing to stop them.
And when the race was over, Hannibal's chief rival, McKenzie Mattison, who is higher ranked than Dwyer in Section III, had no answer when Dwyer exploded from the line to lay down a sub-six-minute first mile. Mattison finished in third with a clocking of 20:34.
Dwyer finished all alone in a time of 19:39. Only three Skaneateles girls have traversed the Polo Grounds 3.03 mile course quicker.
Kaitlyn Neal, the top-ranked Class C runner in the state, clocked an 18:37 last fall. Neal's current teammate, Madeline Adams, crossed the line in 2011 with a time of 18:55 and the legendary Rachel Hosie clocked an 18:58 in 2008. All three girls were named to the New York All-State team by the New York State Sportswriters Association.
Looking fresh Elsa Soderberg placed second to Dwyer in 20:12. The junior, visibly recovered and stronger after an illness-plagued effort at the McQuaid Invitational in Rochester last weekend, was motoring with strength and confidence oozing with every stride.
Fluid and efficient, Soderberg looks to be the secret weapon for the Section III meet in November. "She's been outstanding," said co-coach Rob Tuttle.
Morel Malcolm left the starting line with an abundance of confidence and placed fourth in 20:43 as fellow senior Maria Schillace motored to sixth place in 22:03.
(Continued on Next Page)
Prev Next
Vote on this Story by clicking on the Icon