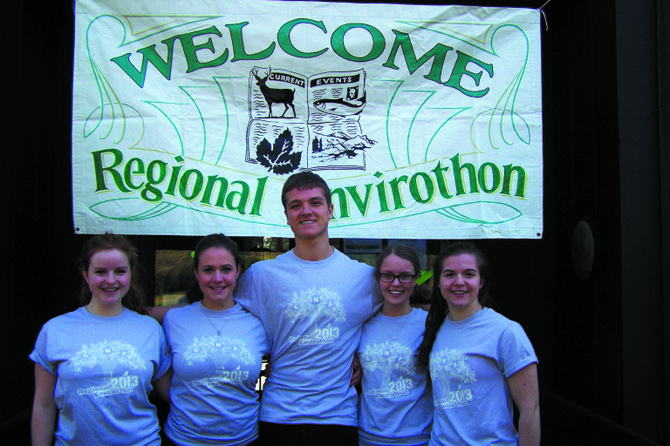 Skaneateles High School teams came out on top when students from school districts in four counties gathered at Rogers Conservation Center in Sherburne, N.Y., for the annual Central New York Regional Envirothon.

The team of Aryn Krebs, Mercedes Morales, Amanda Shoenfelt, Colby Buell and Kelly Valente won the regional championship and will participate in the New York State Envirothon Championships at the end of May.
The team of Ellis Van Slyke, Jack Fabrizio, Haley Cox, Nick Kochan and Elyse Dubois placed second in the region. In addition to placing first and second overall in the region, the two teams won five of the six contested categories, placing first in aquatics, forestry, soils, oral presentation and the current environmental issue. CBA won the wildlife division.
The first place team, "Biltmore Tough," is made up of all seniors and one junior - Colby Buell. The second place team had all seniors and one freshman – Elyse Dubois. That team name was "Red Whiskered Bulbuls" after a bird. The Biltmore stick is a tool used to measure various tree dimensions, such as diameter at breast height and height. It looks much like an everyday yardstick.
At the Envirothon, high school students from Cayuga, Chenango, Madison and Onondaga Counties — organized in teams of up to five members each — competed to win prizes, college scholarships and a chance to attend the state level Envirothon. The top team in each county earned that right. Had the two Skaneateles teams represented different counties, the Red Whiskered Bulbuls would be going to the state competition as well.
Members of team one (Biltmore Tough) are now preparing for the state-wide competition May 30 and 31 in Morrisville.
Envirothon wins have become a tradition at Skaneateles High School. Teams have won first place county and regional trophies for all but two years out of the past 15 years. Advisor Marcus Guy said that the teams representing Skaneateles at the state competition have taken second place two years in a row, narrowly missing the chance to go to the national competition.
Vote on this Story by clicking on the Icon