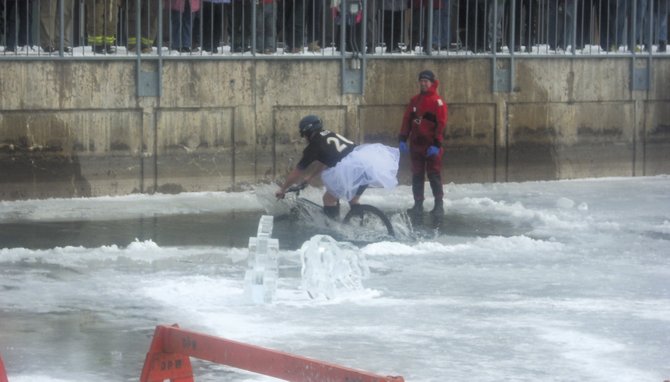 Winterfest is held the same weekend every year, but that is no guarantee that there will be winter weather. This year, mother nature really helped put the "winter" in Winterfest, with temperatures around 15 degrees, snow on the ground and plenty of ice on the lake.
Winterfest, the annual January festival run by the Skaneateles Sunrise Rotary club since 2005, continued its great popularity in the community with another successful year. The festival, held on Friday, Jan. 25 and Saturday, Jan. 26, featured an ice walk, the Polar Bear Plunge, ice carving demonstrations, the Taste of Skaneateles and a scavenger hunt.
Winterfest started as a small service project to publicize the community center at the YMCA, John Paddock, Sunrise Rotary Club President, said. In recent years it has grown in popularity and scale to become an event that draws people in from out of town.
"It's grown quite a bit, many of the people I've sold tickets to today are from out of town, even as far as Binghamton, Albany and Buffalo," Paddock said.
The event that garnered the most attention was the Polar Bear Plunge Saturday afternoon. Several hundred people gathered at 12:30 p.m. at Clift Park to watch 55 brave "plungers" jump into the lake for charity.
Many of the plungers were in teams and wore costumes. Before each team went in the water they went up on the gazebo to introduce themselves to the crowd with the help of master of ceremonies Carrie Lazarus, of News Channel 9 in Syracuse. Costume themes included "Braveheart," "The Princess Bride" and the Skaneateles Lakers.
The event is now in its fifth year at Winterfest, said Todd Marshall Skaneateles Polar Bear Club President and founder of the event. Participants pay $50 to participate, or $60 the day of the event, and all proceed go to benefit Skaneateles Education Foundation, Skaneateles Ambulance Volunteer Emergency Services (SAVES), and the Skaneateles Fire Department. The event raised $6,600 in 2012 and it has grown in size every year since it started, Marshall said.
(Continued on Next Page)
Prev Next
Vote on this Story by clicking on the Icon