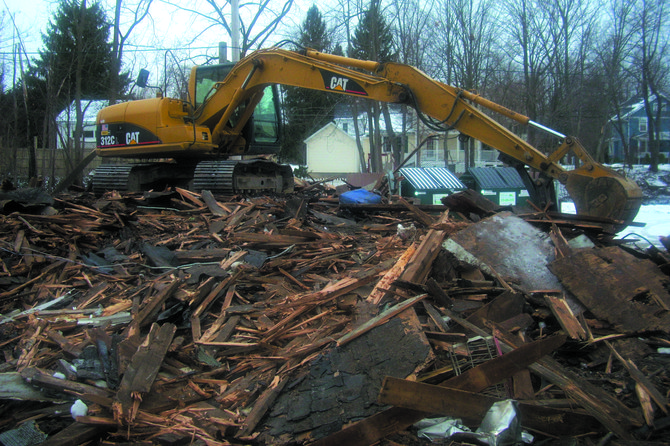 A historic building in Skaneateles is no longer standing this week.
The barn at 21 Fennell St. next to Kinney Drugs, which was more than 130 years old, suffered serious damage when the roof over the rear part of the structure collapsed during the night on Jan. 11, said Bob Hood, a local real estate developer and the owner of the property.
Local contractors came in to demolish and clean up what remained of the structure starting on Thursday, Jan. 17. Though the original barn was undamaged by the roof collapse in the rear building, the foundation was crumbling and it would have been too costly to repair, Hood said.
"From a safety point of view we decided to tear it down, I didn't want it to be hazardous," Hood said.
The barn was known to some in town as the "Teasel Barn" because it was originally built as a workshop and storage center for teasels, a thistle plant, sometime in the 1870s, said Jorge Batlle, Village Historian.
Though the construction date is unknown, the building is pictured as far back as 1881, meaning it was at least 131 years old. The teasel industry was thriving around the turn of the century and helped put Skaneateles on the map.
Teasels were a cultivated thistle that were used like a comb to finish wool products, and at that time the only places that had the ability to grow and process teasels were France and Central New York. This meant the demand was high and the Skaneateles economy boomed as a result, Batlle said.
The workshop in the back was used to process the teasels so they could be used on wool while the barn in the front was used to store them. The old workshop was the part that was destroyed by the roof collapse.
(Continued on Next Page)
Prev Next
Vote on this Story by clicking on the Icon