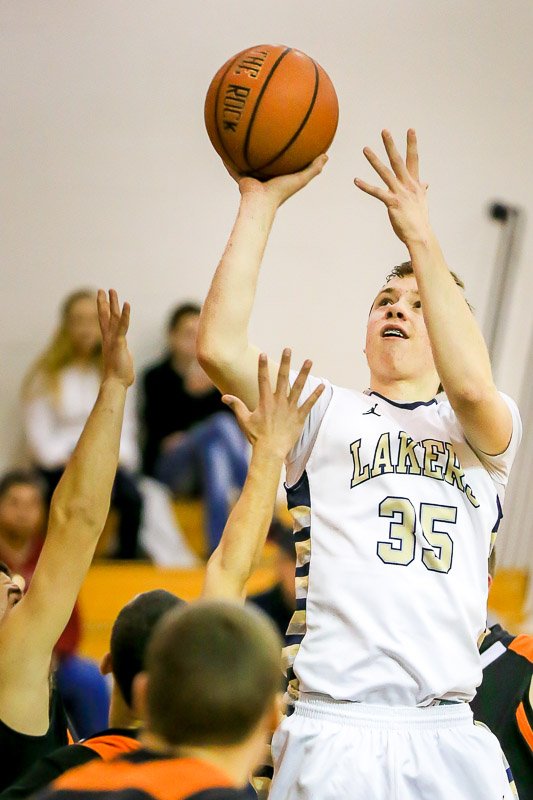 Skaneateles — Maybe the worst thing that could have happened to the Skaneateles boys basketball team, in the wake of its impressive 64-45 win over visiting Bishop Grimes on Jan. 10, was to wait eight more days before taking the court for its next game.
Yet that's exactly what the Lakers had to do, and it met that challenge, turning back another quality OHSL Liberty division foe Friday night with a 62-58 victory over Phoenix.
The Firebirds, who won just three games a season ago in the Class A ranks, have tripled that win total in its new league setting, and had a chance, at Skaneateles, to clinch a winning record for 2012-13.
For a half, that seemed quite possible. Both sides produced plenty in the early going, but Phoenix appeared to seize control in the second quarter, slicing right through the Skaneateles defenses as it gained a 33-29 edge going to the break.
The third quarter proved crucial. As the pace stayed fast, Skaneateles turned to the trio of Bobby Leslie, Austin Gardner and Chris Knupp, whose baskets helped the Lakers inch into a 51-49 lead.
All through the stretch, the Firebirds tried to catch up, but Skaneateles kept matching them. Leslie, enjoying one of his best games of the season, paced the hosts with 18 points, including seven crucial free throws.
Just behind Leslie, Gardner picked up 17 points, while Knupp worked inside for 12 points and Collin Jones, so big in the Bishop Grimes win, added seven points. Phoenix, in defeat, got a game-high 19 points from Chris Vaverchak, with Avery Chilsolm contributing 10 points.
Improving to 8-4 on the season, Skaneateles will get a non-league test Monday, at Class C contender Fabius-Pompey, before visiting Institute of Technology Central on Wednesday night.
Vote on this Story by clicking on the Icon