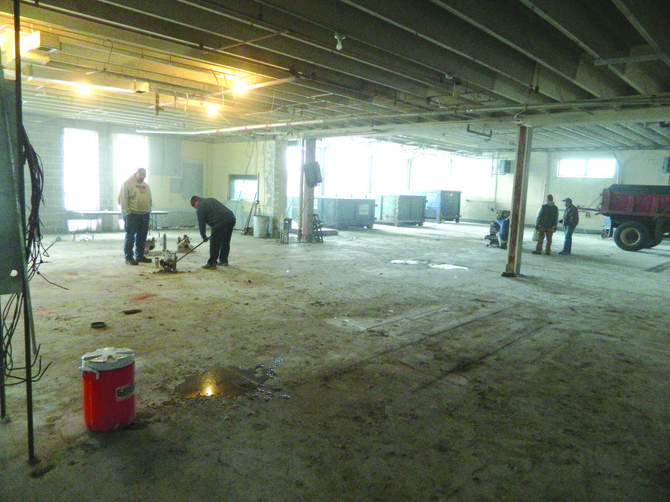 Village residents may have noticed increased noise and a flurry of activity at the old Fennell Street fire station recently as contractors officially began the renovation work that ultimately will create the new village hall. Three massive dumpster-size recycling bins can now be seen in the three apparatus bays of the building, and a row of pickup trucks and construction vehicles will now constantly be parked in front and along the side of the structure as construction the contractors undertake their work.
"Everything is going well so far, the first week of construction. No hiccups. I anticipate it will go well through the project," said Bob Lotkowictz, village director of municipal operations and project coordinator for the new village hall renovations.
The renovation work not only began as soon into the new year as possible, but the renovation work permit was actually the first permit issued in 2013 by the village code enforcement office, according to a report by CEO Adam D'Amico.
The work began at the end of the first week of January when village DPW crews removed the defunct antenna tower and the old fire siren from the roof of the building. The DPW rented a crane for a few hours to help with the dismantling of the 95-foot communications antenna and had it down within two hours, Lotkowictz said. Both the antenna and siren towers are now piled in a heap behind the village police station until the scrap metal can be either recycled or discarded.
The village will replace the siren eventually, although the logistics of where it will be placed, how loud the volume will be and how exactly it will be operated are still being looked into, Lotkowictz said.
On Monday, Jan. 7, village officials and contractors had a pre-construction meeting, after which the renovations officially began, Mayor Marty Hubbard told the village board at its Jan. 10 meeting.
(Continued on Next Page)
Prev Next
Vote on this Story by clicking on the Icon