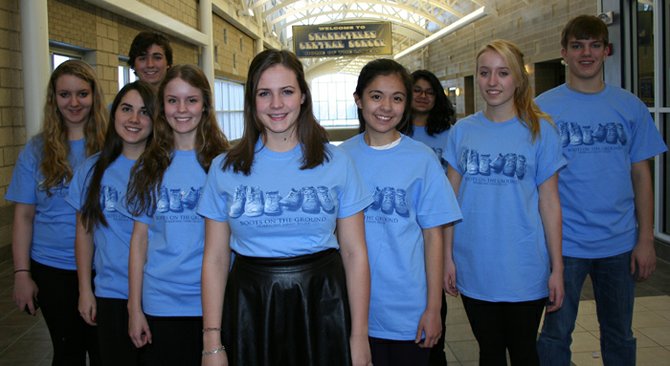 Skaneateles — Skaneateles High School Interact Club members are marching on with their drive to raise money for people affected by Hurricane Sandy. They are continuing a "Boots-on-the-Ground" relief effort that includes the sale of special t-shirts.
Thanks to the music department district-wide, students collected more than $2,700 to donate to the Rotary Hurricane Relief for Staten Island before the holidays. Music students and teachers wore boots to concerts and made announcements about the "Boots-on-the-Ground" campaign. Concert-goers put spare change, dollar bills, 20-dollar bills and very generous checks into tall firemen's boots that were on display.
"People were really generous," said club member and musician Matthew Payne.
Students have now moved on to sell t-shirts and to ask for donations at sporting events, said Interact Club President Kelly Valente.
Valente said Interact members are excited because they are helping people who are working right on the disaster scene: members of the Staten Island Rotary Club, district 7230. The Staten Island Rotary Club has a great track record, having also helped with the disasters involving the Tsunami, Haiti and Katrina. Money raised by Rotary goes 100 percent to a cause, as it is all volunteer and there is no administrative fee.
Interact is Rotary's service club for young people, and so it made sense for Interact to connect to the Staten Island club's effort, said Valente.

To purchase a $12 t-shirt, contact an Interact Club member or email Karen Price at kprice@skanschools.org or Lori Ruhlman at lruhlman@skanschools.org. T-shirt checks should be made out to the Interact Club. Proceeds will go to Boots-on-the-Ground.
To make a tax-deductable donation to the "Boots-on-the-Ground" effort (not for a t-shirt), write checks to Rotary Hurricane Relief for Staten Island and send to Karen Price or Lori Ruhlman at the high school. Or send directly to the cause at: Rotary Hurricane Relief for Staten Island, 148 New Dorp Lane, Staten Island New York 10306.
At this time, Rotary recommends that monetary donations be made instead of food and clothing. Checks should be made out to the Staten Island Rotary Foundation. The foundation is able to provide a tax receipt. Donations will help get the appropriate goods and services to those affected as efficiently as possible.
For more information visit statenislandrotaryrelief.com.
Lori Ruhlman is the Skaneateles CSD public information officer and a member of the Skaneateles Rotary Club.
Vote on this Story by clicking on the Icon