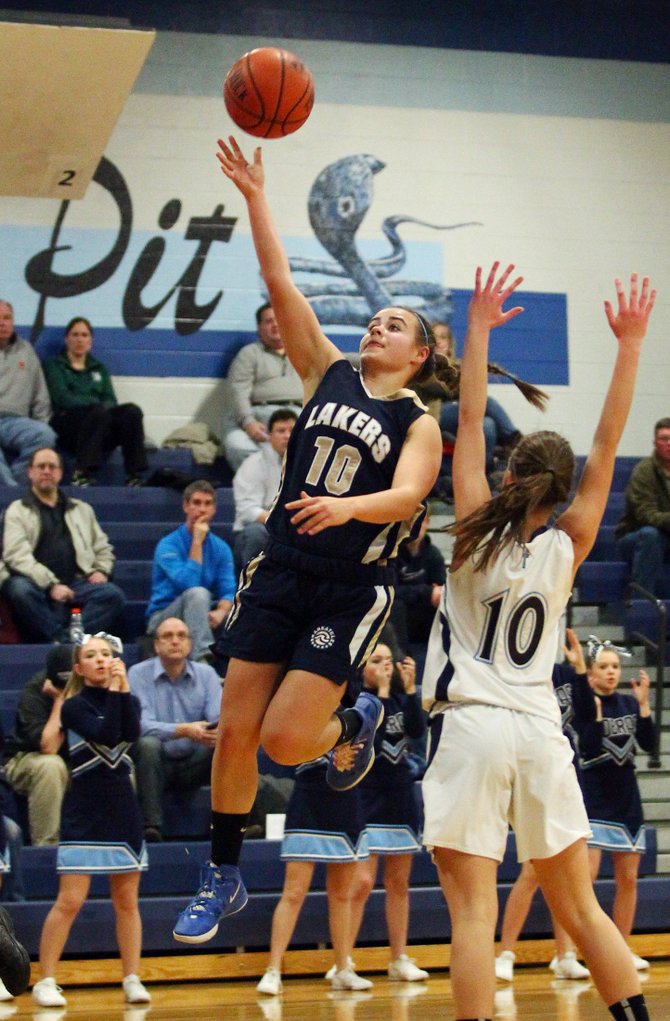 East Syracuse — For 31 minutes of court action Thursday night, the Skaneateles girls basketball team pieced together the kind of strong all-around effort that it needed to get past a quality opponent like Bishop Grimes.
Then, in the last 60 seconds, it almost fell apart.
Not until Joanna Dobrovosky secured a full-court pass near the corner of the court, and the buzzer sounded, did the Lakers escape from East Syracuse with a 60-59 victory over the Cobras and an overall record of 8-2.
The chaotic ending started calmly enough, when Dobrovosky, who had seven of her 12 points in the fourth quarter, sank a pair of free throws with 1:04 to play, which extended the Skaneateles lead to 60-48, its biggest margin of the night.
Grimes' Teresa Shattuck quickly hit a 3-pointer, and then the Cobras pressed, forcing a Skaneateles turnover that led to another basket that made it 60-53.
Concern only grew when, under heavy duress, the Lakers turned it over again. Off that turnover, Grimes' Megan Driscoll hit a basket and was fouled with 30.3 seconds left.
When Driscoll made the ensuing foul shot, it was 60-56. After calling a time-out, Lakers guards Elizabeth Lane and Brittany Welch managed to dribble off a vast majority of the remaining clock, Grimes unable to get a foul to stop things.
Still, Skaneteles could not prevent Grimes' Jordan Vaught from making a steal. Running low on time, Vaught streaked to the top of the key and drained another 3-pointer, cutting the once-formidable Laker margin to one.
But just 1.5 seconds remained on the clock, enough time for the long pass down the court that nearly went too far before Dobrovosky chased it down and held on for the horn to sound.
In truth, much of the game had been a close affair. Though Skaneateles led for all but nine seconds (Grimes briefly took a 28-26 lead late in the second quarter before Joanna Dean tied it), it could not get away, even as it closed the first half on a 7-0 run to lead 33-28 at the break.
(Continued on Next Page)
Prev Next
Vote on this Story by clicking on the Icon