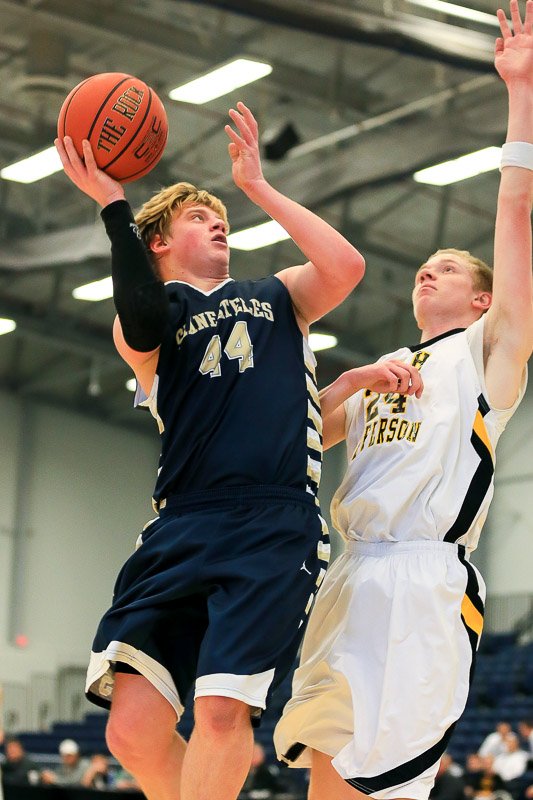 Onondaga — Defense, and sheer tenacity, are the key reasons why the Skaneateles boys basketball team is on its way to the Carrier Dome to play for the Section III Class B championship.
In Sunday's semifinal game at Onondaga Community College's SRC Arena, the Lakers trailed top seed South Jefferson by 14 in the first half, but roared back, forced overtime and eliminated the Spartans 58-52.
That Skaneateles defense held South Jefferson without a field goal for more than seven minutes, covering the late portion of regulation and the early stages of OT. and it took away the Spartans' top weapon, senior guard Tom Bassett, after he had scored 19 first-half points.
Head coach Karl Norris said that the key to containing Bassett, who only had four points in the second half and OT, was face-guarding him, with Alex Brownlee getting help from any of his teammates, regardless of position, so long as they were near Bassett.
There was good reason to change strategy. Initially, Bassett, despite two early fouls, kept flashing open for 3-point shots and made three of them, and when he drove to the basket, he drew contact, leading to four successful free throws.
When that defense started to set in, Skaneateles, once down 32-18 late in the second quarter and 34-23 at the half, started to catch up. Baskets by Austin Gardner, Chris Knupp and Collin Jones closed the gap to 40-36 by the time they reached the fourth quarter.
After Jacob Worden's basket extended South Jefferson's lead to 44-36 with 6:18 left, the Lakers cut off the Spartans for the rest of regulation, going on an 11-3 run.
It was Knupp's driving leaner with 48 seconds left that tied the game, 47-47. South Jefferson turned it over, and the Lakers had a chance to move in front, only to see Jones' 3-pointer from the corner miss. The Spartans worked for the last shot of regulation, but Worden's hook slid off the rim, and the game went to overtime.
(Continued on Next Page)
Prev Next
Vote on this Story by clicking on the Icon