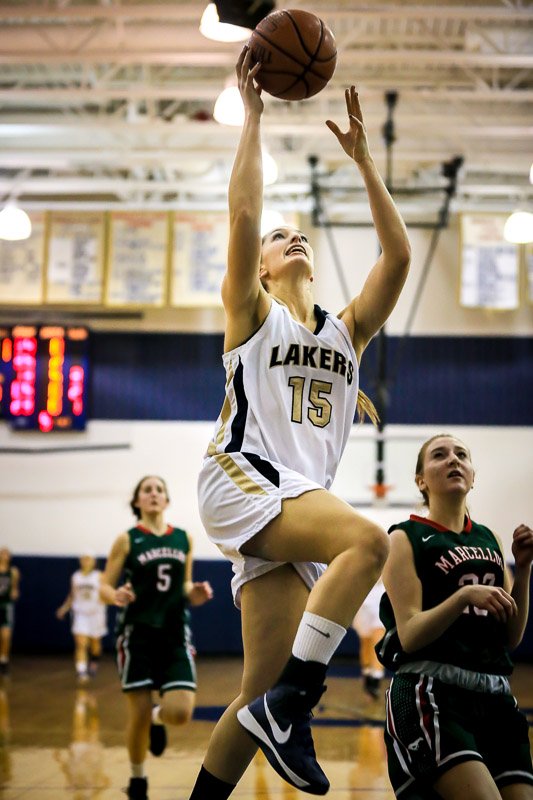 Skaneateles — Combine the presence of a long-time rival, the stakes of the post-season and a high desire for payback, and the Skaneateles girls basketball team was ready for action in Friday night's Section III Class B playoff opener against Marcellus.
Not even a month after the Mustangs scored its highest point total of the season against the Lakers, things turned around as Skaneateles, the no. 8 seed, drowned no. 9 seed Marcellus 41-24.
By doing so, the Lakers (14-5) advance to face top seed and defending champion South Jefferson (18-0) next Tuesday night in the Class B quarterfinals. Game time in Adams is 6 p.m.
Without question, the fact that Marcellus beat Skaneateles 56-43 in that first meeting on Jan. 22 stuck with every Laker player, and when the Class B playoff bracket revealed a rematch with the Mustangs, Skaneateles knew what it needed to do.
According to head coach Jill Blasi, the Mustangs hit outside shots the first time around. When it didn't do so here, that allowed Skaneateles to stay in tight man-to-man coverage for most of the night.
Sensing this, the Mustangs rushed most of its shots, even the wide-open ones beneath the basket. And very few of them fell, especially in a mid-game dry spell that proved decisive.
When Molly MacLachlan, arguably the Mustangs' top player, picked up her third foul midway through the second quarter, Skanetaeles promptly took charge, closing the half on a 13-0 run to lead 28-11 at the break.
Any chance the Mustangs had of catching up came in the third quarter, when Skaneateles went more than six minutes without a point. Yet the Mustangs missed every shot, both from the field and the free-throw line, only getting three points in that frame, all but deciding the outcome.
No single Laker player broke out on the offensive end, but none had to. Joanna Dobrovosky, Joanna Dean and Mary Buck each had nine points, while Sarah Tomlinson, seeing increased playing time (both she and Dean started instead of Dobrovosky and Buck), added eight points. Elizabeth Lane managed six points.
Vote on this Story by clicking on the Icon