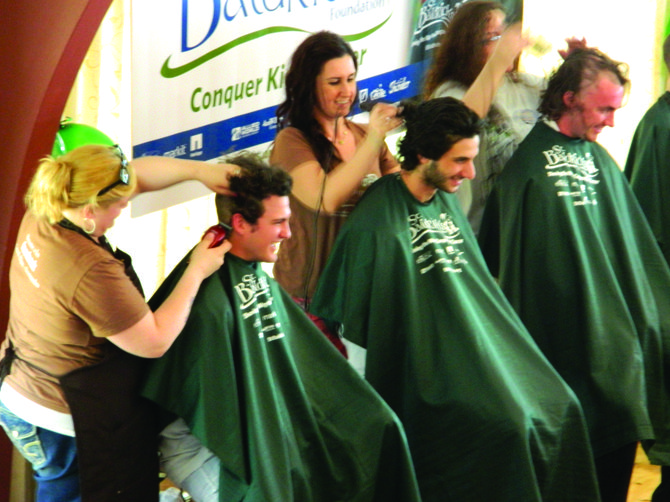 Dave Plogman doesn't want anyone to get their hair cut this March, he wants them to get it shaved.
Plogman is the chair of the Skaneateles St. Baldrick's event that will be held at St. James' church this year on March 10. Volunteers who raise money for the fight against childhood cancer will get their heads shaved at the event and anyone with long enough hair can have it donated for making wigs.
The event is about a lot more than just shaving heads though. The event will also include a presentation including testimonials from parents who have had kids go cancer treatment "It's quite a moving experience, it's very emotional," Plogman said.
Plogman got the idea to hold the event at St. James in Skaneateles after participating in the same event at St. Joe's in Camillus.
The turnout and money raised at last year's event far exceeded Plogman's expectations. He had set a goal of $3,000 and they ended up raising almost $30,000, with 73 people getting their heads shaved. His goal for this year is to shave 100 heads and raise $40,000, he said.
The event starts at 1 p.m. on March 10 and there will two rounds of shavings – at 1:30 and 2:30 – to help reduce chaos and keep the church from getting too crowded. Also, anyone who raises at least $50 and gets their head shaved gets a free t-shirt, Plogman said.
The heads will be shaved by professional stylists from local salons including Bijou and First Impressions in Marcellus. The stylists use clippers rather than razors so nobody is at risk of cutting their head, Plogman said.
Anyone apprehensive about getting their head shaved they can still contribute money to the cause and Plogman had some words of encouragement: "It grows back quicker than you think," he said.
The St. Baldrick's Foundation is a national charity that has raised over $119 million since 2005. The event gets its name by combining "St. Patrick's" with "bald" and most of the head-shaving events are held around St. Patrick's Day. The money raised all goes toward funding research for treatments and cures for childhood cancers, according to the foundation's website.
Anyone interested in participating or donating money for the event can contact Dave Plogman at 447-3688 or visit stbaldricks.org.
Joe Genco is the editor of the Skaneateles Press he can be reached at editor@skaneatelespress.com.
Vote on this Story by clicking on the Icon