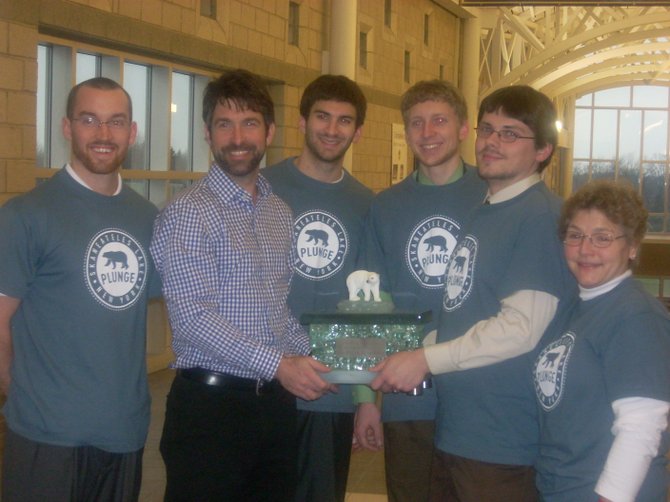 Team "Brain Freeze," composed of teachers and faculty from Skaneateles High School was awarded the Polar Bear Trophy last week for raising the most money for charity for the Polar Bear Plunge. They raised $1,250.
The plunge is part of the annual Skaneateles Sunrise Rotary Club Winterfest, held this year on Jan. 26. Participants jump into the freezing cold Skaneateles Lake and stay in for at least 10 seconds. All proceeds from the event went to support SAVES, Skaneateles Fire Department and Skaneateles Education Foundation.
The team was composed of teachers Brian Sevey, Mike Mistretta, Dan Kurzen, Justin Suhr, teacher's aide Mary Blum, village trustee Jim Lanning and a few students. They all dressed up in Skaneateles basketball jerseys for the plunge.
The teachers solicited donations from their students and put donation boxes outside the cafeteria. Blum said she also collected donations from the congregation at St. James' Episcopal Church.
Team Brain Freeze beat out the team from Bijou Salon who won the award last year by raising $1,164.
Justin Suhr, a Latin teacher at the High School, said he enjoys tackling the challenge of taking the plunge. "It's fun to say you've done something that not everybody would be willing to do," he said.
The trophy will be on display in the High School until next year when the team hopes to win it again.
Joe Genco is the editor of the Skaneateles Press. He can be reached at editor@skaneatelespress.com.
Vote on this Story by clicking on the Icon