The village of Skaneateles received a gift all the way from Africa at its April 11 meeting.
Rev. Craig Lindsey, of First Presbyterian Church of Skaneateles, and John Dau, of Duk Payuel village in South Sudan, presented the board of trustees with framed photos and a proclamation of their village-to-village relationship.
The village board had voted to make this sister village relationship official at its Nov. 29, 2012 meeting. Before that, the two communities had a long standing history, including missionary work and donations.
Dau travelled to Duk Payuel with the board's resolution and returned with a proclamation from the village's chief council agreeing to the relationship.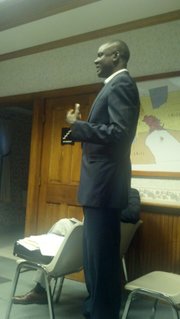 The proclamation, which mayor Marty Hubbard read out loud, stressed the importance of the friendship between these two villages: "As long as this friendship lasts, we will work hand in hand with one another. In our culture friendship comes from the heart. In every friendship each side tries to offer something to the other."
The offer made by Duk Payuel to Skaneateles was one cow and one bull.
The offer was more symbolic than material, which is why the board was presented with the photos. The photos include members of Duk Payuel posing with the cow and bull.
Dau spoke to the board also to tell about his visit to Duk Payuel. He said he explained the relationship to the village leaders like a friendship between two people from different villages.
"In Dinka [a Sudanese tribe] traditions, when you give a cow it really cements that relationship because the cow is very, very important to them," he said.
In addition to being the representative of Skaneateles to Duk Payuel, Dau is one of the Lost Boys of Sudan: a group of refugees who were displaced during the Second Sudanese Civil War.
He now lives in Syracuse with his family and runs the John Dau Foundation, which is dedicated to transforming healthcare in South Sudan. The first medical clinic that the foundation built was in Duk Payuel, according to the foundation's website.
(Continued on Next Page)
Prev Next
Vote on this Story by clicking on the Icon