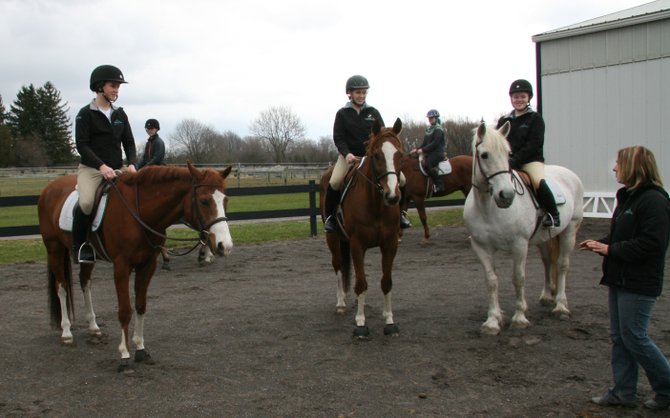 Though they will only be traveling to the New York State Fairgrounds in Syracuse, the Emerald City Equestrian team will compete against the best teams from around the country this weekend.
The team, based in Skaneateles but composed of riders from around Central New York, recently qualified to compete in the Interscholastic Equestrian Association's (IEA), national finals on Friday, April 19 through 21.
Both the middle school and high school age levels of the team qualified for the competition by finishing in the top three of their zone at a competition held on March 29 through 30 in Centre Hall, Pa. A couple of riders also qualified to compete individually.
The Emerald City team has only existed for three years and this is the first time that they have qualified for nationals, coach Sara Paddock said.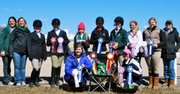 The members of the high school team who will be competing are: Grace and Maura Cherney, of Cazenovia, Corinne Milnamow, of Chittenango, Mikayla Catherman and Brittney Valentine, of Marcellus and Jennifer White, of Syracuse. The middle school team will be: Abby Barry, of Syracuse, Katie Pitcher, of Hannibal, and Brynley Smith, of South Otselic.
Only one member represents the team in each event, so the coaches only selected certain riders to compete for the national level.
The riders compete in both jumping and flat riding competitions. Their scores are based on performance, horsemanship and equitation and the judges focus on the rider, not the horse, according to the IEA website.
One of the quirks of IEA competitions is that the riders must ride on horses they have never ridden on before.
"You have to know how to communicate with the horse and learn patience and trust. You can't just get in and drive it like a car," Paddock said.
This rule also makes it much easier for teams to travel and compete. Transportation and housing for competitions could cost as much as $5,000 per horse, but they don't have to deal with that, she said.
(Continued on Next Page)
Prev Next
Vote on this Story by clicking on the Icon