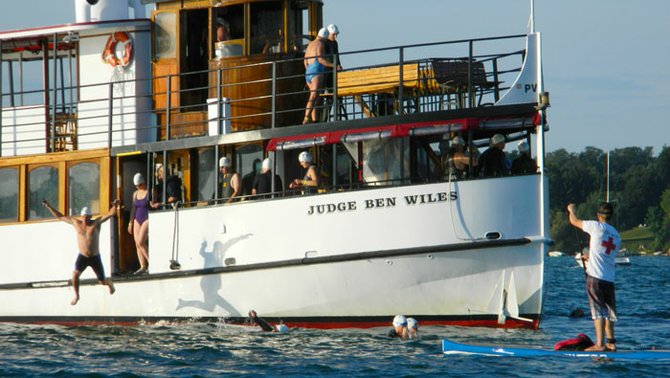 Skaneateles — On Sunday, Sept. 2, the Escape from the Judge swim race, part of the annual SkanRaces Labor Day race weekend, took place on Skaneateles Lake at Clift Park. Yearly participant Summer Schmitt, of Syracuse, was this year's winner, after a close duel to the finish line against second place finisher Joshua David Lacey, also of Syracuse.
The morning started off chilly, but when the race began, it was 71 degrees. The water was calm with a temperature of 74 degrees.
"I've been doing this for years and this morning is one of the most beautiful mornings I've ever seen," said event announcer Bill Burdick.
Keone Weigl, of Manlius, and Eliza Decker, of Skaneateles, were going to be in the race. This was the first time for both of them doing the Escape from the Judge race. "I'm excited," Decker said. She did the Skinny Man race two years ago.
There were 244 people in the Escape from the Judge race. When it was time to start, about 50 racers got on the Judge Ben Wiles and rode to the starting location at Skaneateles Country Club. The other racers were bussed out to the country club.
At the country club, people on the Judge jumped off the boat, and the people at the country club jumped off the docks, and they all swam to the starting line. Once the horn sounded, all the swimmers started their one-mile swim back to shore.
The winner was Summer Schmitt with a time of 20:10. This is what she had to say about winning: "It's good. I do this every year. It's like a tradition." Schmitt came in second place last year.
This year's second place winner was Joshua David Lacey, with a time of 20:15. Third place winner was Brett M. Ryan, with a time of 20:38. Fourth place winner was Abby Dells, with a time of 21:41.
(Continued on Next Page)
Prev Next
Vote on this Story by clicking on the Icon