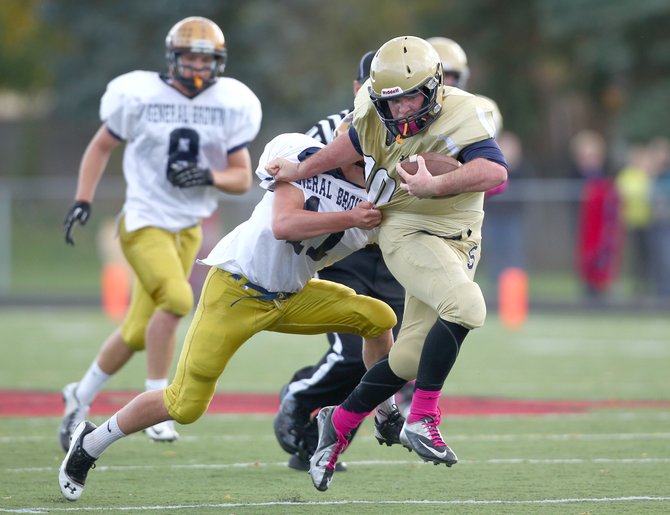 Chittenango — Make that eight wins in a row for the Skaneateles football team, though few of those wins were as impressive as the latest one.

The Lakers completely outclassed General Brown, 49-14, Saturday afternoon in the Class C-1 semifinals at Chittenango High School.
"We played well," Skaneateles coach Joe Sindoni said. "General Brown's a good team."
The unbeaten Lakers (8-0) will play for the C-1 title at Marcellus High School Saturday night at 7 p.m. against Bishop Ludden. Skaneateles defeated the Gaelic Knights, 31-24, on Aug. 31.
To get there, the Lakers displayed devastating form against previously unbeaten General Brown, who entered the game also at 7-0 and, at one point this season, shut out five straight opponents.
"Skaneateles is a very good team, obviously the best team that we faced this year," Lions coach Tom Frears said. "They've maybe got a good run to go to the state championship. Their offensive line did a nice job of controlling us. And they have outstanding skill people."
Skaneateles scored 21 unanswered second half points to take a 28-7 halftime lead. The Lakers out-gained General Brown, 236-150, over the opening 24 minutes.
Jake Cooney scored the winner's first touchdown, a 19 yard pass from Conor Herr. After the Lions pulled even, Skaneateles took the lead for good midway through the second quarter. Again it was Herr throwing to Cooney, a 35 yard pitch-and-catch.
Then it became the Connor Hill show.
Hill first intercepted a pass on the Lakers 45 to interrupt a Lions drive. Three plays later, he caught a 21 yard touchdown pass from Herr. And after a Cooney interception, Hill took a reverse handoff and ran 14 yards to give the Lakers their 21-point halftime cushion.
Sindoni's halftime speech urged caution. "We've watched (General Brown) come back enough that we weren't really comfortable with any lead," he said.
(Continued on Next Page)
Prev Next
Vote on this Story by clicking on the Icon