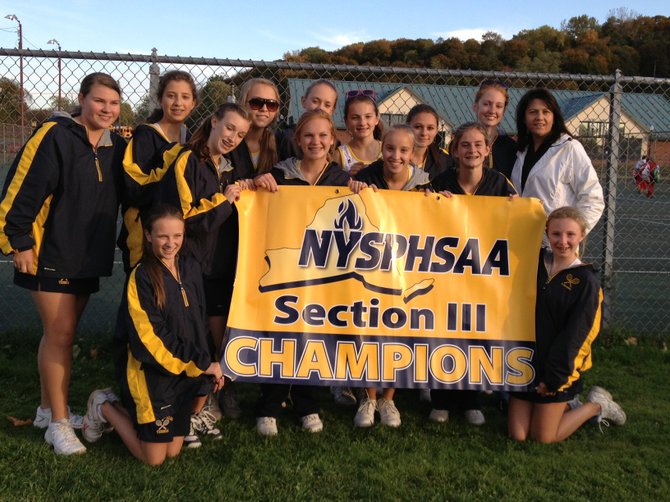 Both in singles and doubles play, the Skaneateles girls tennis team proved too much for Copenhagen.
As a result, the Lakers lay claim to the Section III Class C chamiponship Wednesday afternoon at Mott Tennis Center in Utica, beating the Gold Knights by a score of 4-1.
Copenhagen, hailing from the Frontier League, had started the sectional tournament as the no. 5 seed, but made its way to the semifinals and stunned top seed Beaver River 3-2 the day before facing Skaneateles.
The run would end there, as Skaneateles easily won both doubles matches. Grace and Kathryn Magee, fresh off winning the sectional Division III doubles title, swept Emily Griffin and Kelsey Pitts 6-0, 6-1, while Liz Belinski and Angela Krouse worked past Marinda Allen and Nicole Tanner 6-0, 6-0.
In singles, Olivia Gage lost to Copenhagen's Rachel Muncy 6-3, 6-3. However, Makenzi Herbst prevailed in first singles over Erika Eddy 6-1, 6-3, with Katelyn Ellison picking up a 6-1, 6-1 victory over Sydney O'Shaughnessy.
Skaneateles started the tournament as the no. 3 seed, and after making it through the quarterfinals, it dominated Monday's semifinal against Clinton, blanking the Warriors 6-0.
Herbst got it going in singles, toppling Samantha Malak 6-2, 6-4. Ellison kept it going with a 6-1, 6-2 victory over Shannon Cherpak, with Gage handling Olivia Kodsy 6-1, 6-1.
The Magee sisters earned their doubles point by routing Laura Hopkins and Rebecca Williams 6-0, 6-2. Belinski and Krouse beat Linda Kirk and Ester Mazor 6-3, 6-0.
Vote on this Story by clicking on the Icon