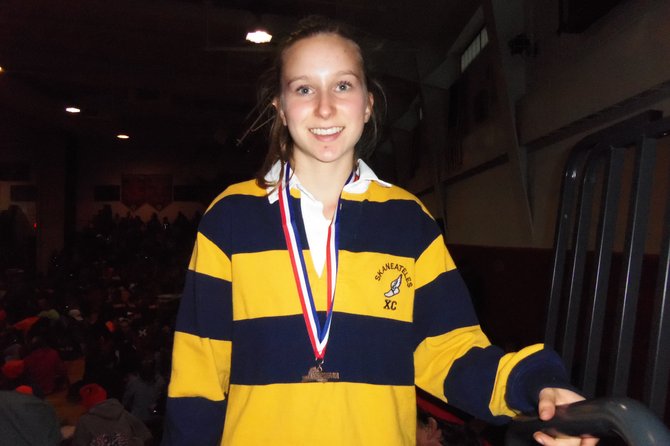 The Elma Meadows 3.1 mile race course near Buffalo has seen a lot of cross country races in the past three decades, but none as fast as the state championships held on Saturday.
It was the 62nd edition of New York's battle of the state's top runners. In all, nearly 5,000 girls compete in cross country statewide. while about 8,000 boys compete.
Registering times that boggle the mind and show how much runners have improved year by year across New York, one wonders where the limit of human achievement resides. In national terms, New York is the pre-eminent state year after year in the national championship races.
For example, in the boys Class B race, Marcellus titan Ryan Manahan broke the course record with an astounding time of 15:30.6. But before the Mustang senior could truly grasp the enormity of his achievement, Fayetteville-Manlius senior Nick Ryan recorded a lightning quick 15:07.9 to shatter Manahan's half-hour old record. And that's what it's like if you're a runner in New York.
In the girls races, it was much the same. In 2001, the Skaneateles Laker girls won the state championship behind a 19:55 clocking by all-state Laker Lia Cross, who placed fifth. Not far behind in 10th was all-state runner Simone Bras in 20:08.
However, in last Saturday's version of the state Class C meet, current Laker Kaitlyn Neal recorded an astonishing time of 19:18.9 to take eighth place, while Madeline Adams placed 22nd in 19:54.4.
Neal, nervous in her first state championship, had the telltale signs of jitters as her stomach flew with the butterflies, but she hammered the final 600-meter straight and found something extra as she missed out on seventh place by a mere 0.2 seconds while earning her all-state status.
Adams, hampered for the past two months by one injury that developed into another injury, was not to be denied as she rallied over the final pine tree-lined finishing straight and passed six girls to place 22nd and earn her all-state honors.
(Continued on Next Page)
Prev Next
Vote on this Story by clicking on the Icon