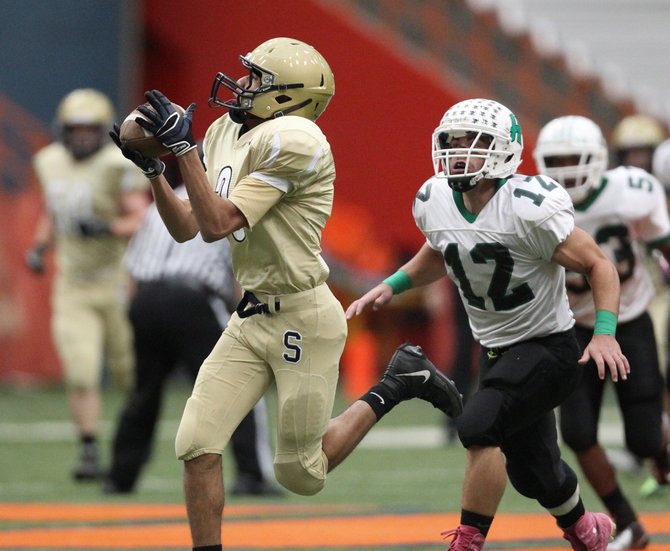 SYRACUSE — What the Skaneateles football team started in 2011, it finished in 2012, and no outside force could do anything about it.
Four touchdown passes from Conor Herr to Jake Cooney, combined with a defense that continually made key stops when they were needed, helped the Lakers defeat Herkimer 33-16 in Saturday's Section III Class C championship game in the Carrier Dome.
"This would be special if (the controversy) last year never happened," said head coach Joe Sindoni. "But it's still special. The kids have a very big sense of accomplishment."
Cooney said that, as big as the win was for this program, it meant more for the future.
"Ten years from now, people will remember us as the start of something big," he said.
This is the Lakers' first sectional title since it tied Mount Markham 12-12 in the 1992 title game. The ensuing two decades were mostly full of futility, where even the notion of a championship run seemed like folly - at least until the 2011 season that got cut short, even though Skaneateles never lost a game.
In fact, this was the match-up that everyone had anticipated a year ago in the Dome, only to have Section III's ruling against the Lakers' alleged recruiting practices prevent that from taking place.
Absent the controversy, and absent the two quarterbacks (Troy Green for the Lakers, Sean Crandall for the Magicians) that were the stars of both teams in 2011, Skaneateles set out for fulfillment and atonement, and got both.
It didn't take too long, either. On the Lakers' third offensive play from scrimmage just 2:14 into the game, Herr went deep over the middle and found Colin Jones, who got behind the secondary on a 60-yard touchdown strike to put the Lakers up 6-0.
Another possession brought another Skaneateles TD, this one set up by another deep pass, Herr going 48 yards to Jake Cooney, setting up a shorter connection as Herr went seven yards to Cooney for the score and Colin Alexander's extra point created a 13-0 margin.
(Continued on Next Page)
Prev Next
Vote on this Story by clicking on the Icon