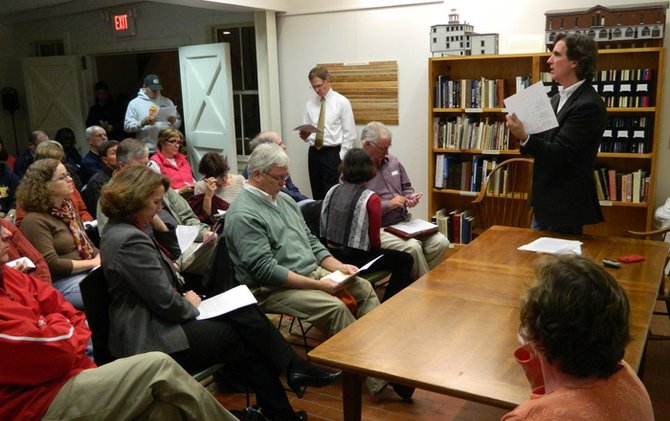 Skaneateles — Skaneateles residents who claim the character of their community is being threatened by development have hired an attorney, are coordinating a large letter-writing campaign to public officials and local newspapers and, in general, are mobilizing their efforts to oppose the proposed Victory Sports Medicine and Orthopedics health, wellness and sports campus off Route 20.
"We have a really legitimate argument. We have a right to say, 'How is your development going to make our community better?' You have to convince us, and so far I just don't get it," said Holland Gregg, executive director of the Citizens to Preserve the Character of Skaneateles, at a meeting of about 75 people on Nov. 1 at The Creamery on Hannum Street. "We need to let [Victory Sports Medicine] know that the community is now awake and ready to go toe-to-toe."
Town Planning Board member Joseph Southern not only attended the meeting, but he is also a CPCS member and advised the group on the effectiveness of some of their opposition strategies.
The planning board is the lead agency in the VSM development process as it goes through its government approvals.
The proposed Victory Sports Medicine and Orthopedics Campus has been in progress since 2008, but public awareness and opposition to the project began a few weeks ago after a Town Planning Board meeting to complete the State Environmental Quality Review Act to assess environmental impacts and a Zoning Board of Appeals public hearing on a requested lighting variance.
The VSM Campus is set on 99.5 acres of land off Route 20 less than a mile east of the Village of Skaneateles. It will include a 61,000 square foot medical and research facility; a 171,000 square foot indoor recreational, athletic and rehabilitation facility (containing mostly indoor athletic fields); and a dozen outdoor multi-use and baseball fields.
(Continued on Next Page)
Prev Next
Vote on this Story by clicking on the Icon