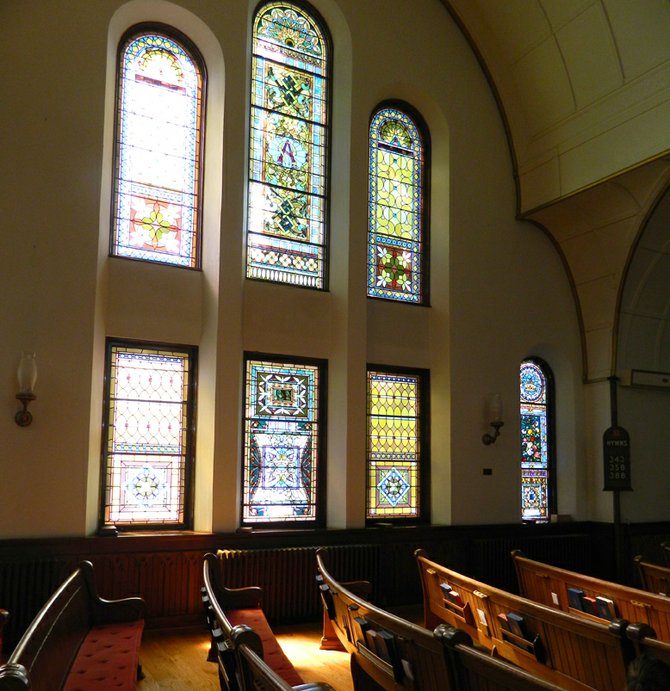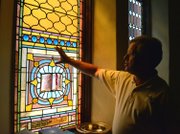 Skaneateles — Skaneateles residents passing down East Genesee Street soon will notice boarded-up window frames have replaced the beautiful stained-glass windows in the top story, front façade of the First Presbyterian Church. Don't worry — the church is not moving, or going defunct, but rather nearing the completion of a 20-year project to restore all the stained glass windows to a structurally sound state.
The windows, as beautiful and as priceless as they are, are more than just decoration, however. They also convey messages, honor families, share church history and imbue the physical structure with the harmony and philosophy of the religious congregation.
"The beauty of these stained glass windows is that they preserve the ecumenical diversity of this congregation in this community. Not only in the names [memorialized on the windows], but in the desire to find a way to work together building on the core beliefs of each denomination and individual," said Rev. Dr. Craig Lindsey, pastor of the First Presbyterian Church. "The abstract design of the windows at First Presbyterian Church emphasizes that faith is not always rational, or explicit, but requires that the witness interpret and apply what they have seen."
History
The First Presbyterian Church of Skaneateles is the oldest congregation in the village. It was organized July 20, 1801, as the Skaneateles Religious Society, with dedication of the first building on March 1, 1809. Due to a growing congregation, the Presbyterians built a new church in 1831 at the present church site on East Genesee Street. The previous church at 21 State St. now houses the Skaneateles First Baptist Church.
In 1891, the church was discovered to be structurally unsound and subsequently demolished. The reconstructed church — what is the current building — was built in 1892.
A major part of the funding for the new building was given by Thomas Hall, a wealthy New York City man who had grown up in Skaneateles, in memory of his mother. His financial contributions were given on condition that the money would be used to "give to the glory of God," and not be used for either music or artwork — such as stained glass windows.
(Continued on Next Page)
Prev Next
Vote on this Story by clicking on the Icon