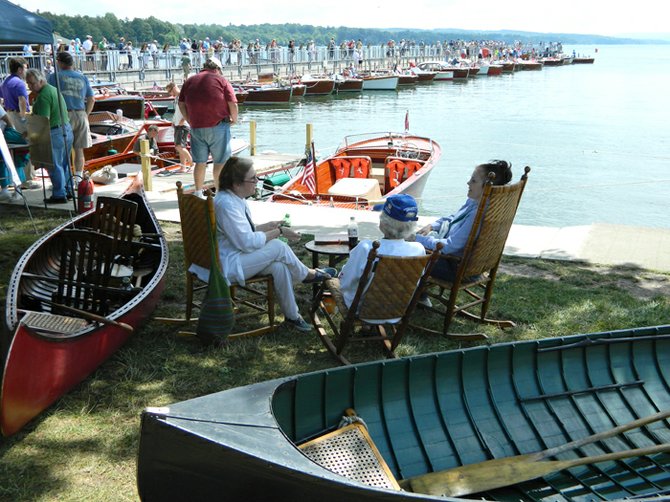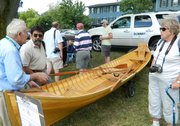 Skaneateles — The annual Antique and Classic Boat Show achieved another successful year with thousands of visitors despite an early Saturday morning downpour.
The 34th annual event — and the 18th consecutive one to be held in Skaneateles — which ran from 3 p.m. Thursday, July 27, to 3 p.m. Sunday, July 29, offered more than 80 boat displays on water and land with participants coming from across Central New York, as well as Pennsylvania, New Jersey, Vermont, Florida, South Carolina, North Carolina and Ontario, Canada.

This year's show also featured two boats from the movie, "On Golden Pond," which were docked adjacent to the Clift Park gazebo. The "Thayer IV," a 22-foot Chris-Craft Sportsman Utility, was used by the characters to go fishing and into town. "Mariah," a black 19-foot Century Raven, portrayed the U.S. Mail boat. In a tent nearby the boats, the movie played and memorabilia from the movie was exhibited, along with documentation on the boats' restoration.
The show was organized by the Finger Lakes Chapter of the Antique and Classic Boat Society and the Skaneateles Area Chamber of Commerce Foundation.
On Saturday afternoon, after the early rain, people turned out in droves to the boat show, all unanimously relieved that the rain did not last.
"So far, this show has been excellent," said Vincent Kehoe, of Ottawa, Canada, who displayed a 1905 Chestnut Canoe Co. canoe, along with his friend and canoe co-owner Mel Benton. "Except for that little bit of dampness this morning, this has been wonderful."
Boat show judges Rod Taylor and John Howard also were relieved the rain stopped, but were more interested in the boats themselves. "We just love looking at things and touching things [on the boats], just like little boys." Howard said.
"When you're in your 60s, these things really turn you on," Taylor said with a laugh.
(Continued on Next Page)
Prev Next
Vote on this Story by clicking on the Icon