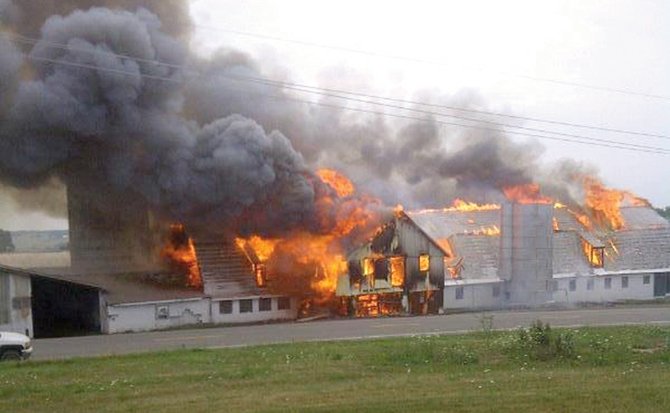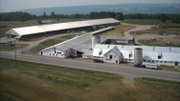 Spafford — A mere six hours before fire erupted on Thursday, July 19, at Fesko Dairy on East Lake Road in Spafford, owner Chris Fesko was high above the property taking aerial photos of the farm.
No one was the wiser that by 3 p.m. a blaze would begin burning through the nearly 100-year-old farm's main dairy complex, taking the lives of 40 yearling calves and three pigs.
"We did manage to save 18 [calves], but two of those had to be euthanized," Fesko said. The calves had yet to be weaned.
Though the cows did not become hyper or disoriented from the blaze, she said two of the adult cows were believed to suffer from smoke inhalation.
Fesko said she was reminded of the inherent good in all of us as people pulled up along the side of Route 41 to help pull calves from the growing inferno. In all, there were six people inside the barn saving calves before the rescue was called off and farm employees fell to the ground, collapsing from the heat and smoke.
"We had hired men and employees collapsed on the lawn. I collapsed in the middle of [Route] 41," Fesko said, adding that she was picked up and carried out of the road by one of the people who had stopped to help. "It went up so fast."
An outpouring of support from friends and neighbors was further confirmed with a large order placed with Lasca's Restaurant in Auburn, where enough food was purchased to feed the firefighters and others coming to Fesko's aid.
"Now that it's over with and there's nothing you can do about it ..." Fesko's voice trailed off. "How quickly we turn back into good people."
Area farmers offered to take the remaining calves to raise until they have a home again on the farm. Fesko said farmers as far away as Norwich were calling to offer support and homes to the adult cows should she need to move them from the farm.
(Continued on Next Page)
Prev Next
Vote on this Story by clicking on the Icon