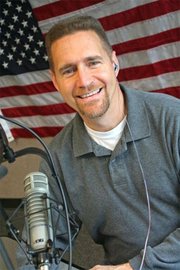 SYRACUSE — WSYR will add a new host to its lineup next week.
Bob Lonsberry, a Rochester-based talk show host on 1180 WHAM, will be filling the 3 to 5 p.m. slot on Newsradio 570, beginning Jan. 9.
Lonsberry is advertised by WSYR as offering "local issues, real opinion."
"The format will be similar to Rochester -- local issues, with a conservative bent," Lonsberry said.
The show currently airs from 11 a.m. to 2 p.m. on WHAM. Lonsberry said he will split his time between broadcasting out of the Syracuse and Rochester Clear Channel offices.
Lonsberry has been a journalist for more than 25 years, having hosted shows in numerous cities across the country, most recently in Rochester and Salt Lake City, Utah. He lives in Mount Morris.
He currently writes a regular column on his website discussing different issues about community news, local issues and his family life.
Vote on this Story by clicking on the Icon