Skaneateles — Senior Kaitlin Spear was just taking a chance when she picked up the phone and punched in the phone number for the Office of the President at Upstate Medical University.
As president of Skaneateles High School's National Honor Society, she was in search of an inspiring, articulate person who might be keynote speaker at the annual induction ceremony for juniors. She wondered if Dr. David Smith, the Upstate president, might be willing to speak.
He was.
"I talked with his assistant and she called the next day and said he would be happy to help out," she recalled recently. "It was easy."
Spears call netted her a speaker who was "riveting," she said. "Everyone was blown away."
Dr. Smith, a pediatrician, was appointed president of Upstate Medical University in 2006, with more than 30 years of prior experience in health care, academic administration and public service. When he was in high school, he too was inducted into the National Honor Society.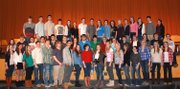 He told Skaneateles students about the importance of continuing to add service, character, and leadership to their already strong base of scholarship as they move on in life.
"He said that because we are NHS students, we have voices that will be heard. If we see a problem, we need to speak up and affect that change," Spear said.
Sandra Taylor, National Honor Society advisor, said Dr. Smith stressed that as they go into whatever field they choose, they will have opportunities to go beyond, and to show their true character by advocating and caring for others. "He said there is no problem too big that you can't bring about change. He encouraged them to be agents of change."
A personal story illustrated his point, Spear and Taylor said. When Smith and his wife, pediatrician Donna Bacchi, were practicing in an underserved area of southern Texas, they noted that children were returning for medical care every few weeks. Despite treatment, they kept getting sick.

(Continued on Next Page)
Prev Next
Vote on this Story by clicking on the Icon
More like this story