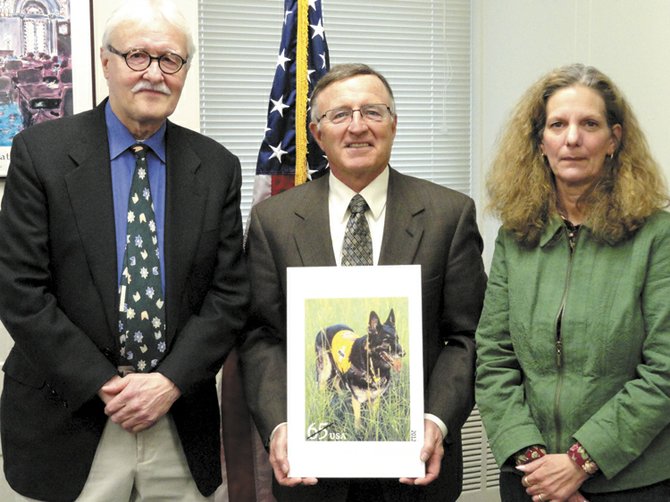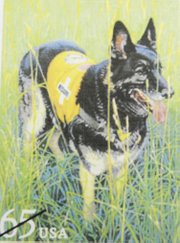 Skaneateles — The U.S. Postal Service recently released four $.65 postage stamps honoring "Dogs at Work," and a Skaneateles German Shepherd named Mittru was honored as one of the four.
Mittru, owned by Chris and Brian Buff, was a search and rescue K9 for Cayuga County Highland Search and Rescue. He was trained to find live people as well as dead, participated in the Ground Zero efforts immediately after 9/11, and worked on hundreds of cases in every type of terrain from Long Island Sound to the Adirondacks and as far west as Allegheny state park.
"Mittru had just what it takes for search and rescue. He was a German Shepherd in Lab's clothes I think sometimes," said Chris Buff. "He was not aloof at all, very outgoing. He loved the camera — he was on the news a lot during his career — he was just a ham."
Mittru was born at Chestnut Ridge Kennels in Sennett. "They have wonderful dogs, and it's amazing that a dog of his caliber came basically from a pet dog," Buff said.
The name "Mittru" — Buff was told by her son — was Celtic and meant "patron saint of the hunt." But a few years later, when Buff told that to a reporter, her son said, "Mom, you believed me!"
"So it doesn't mean a darn thing," Buff said.
Buff has been working in K9 search and rescue since 1979 when she was in the Air Force in Texas. She started working in New York state in 1993, and joined the Onondaga County Wilderness Search and rescue when it was founded in 1998. A few years later she switched to the Cayuga County Highland Search and Rescue team, which is based in Auburn, because it was closer to her home in Skaneateles.
"Our function is to help law enforcement or DEC rangers go throughout state and help locate lost or missing people, living or deceased," Buff said. "It's every type of terrain, 24/7, 365 days; snow, summer or winter, day or night."
(Continued on Next Page)
Prev Next
Vote on this Story by clicking on the Icon