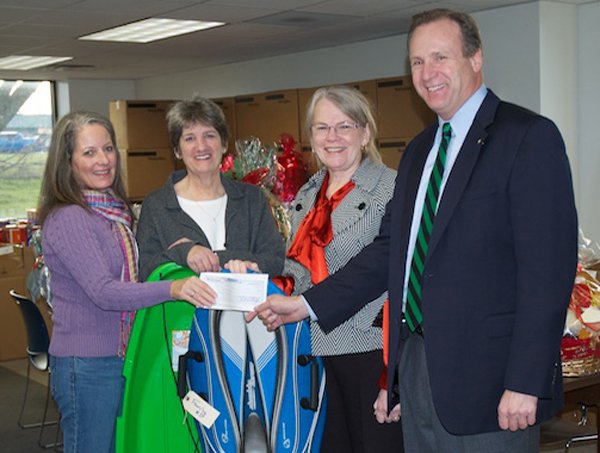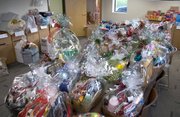 Skaneateles — One of the places where the holiday spirit shines brightest in Skaneateles is in the Skaneateles Outreach office, where donations stream in from all over the community at this time of year.
Outreach is dedicated to assisting local residents who are experiencing difficulties and need assistance, and this year it will serve 120 dinner baskets and be the secret Santa to some 32 families during the holiday season, said Jacque McConnaghy, who is outreach co-coordinator along with Pat Snyder.
None of this would be possible without the generosity of many in the local community, McConnaghy said.
McConnaghy recently accepted a large check from the Skaneateles Rotary Club, which raised money at its annual holiday dinner, which will "help us help people all year long" with holiday food baskets, she said.

Rotary Club President Peter Adams said that the Rotary Club wouldn't be able to present the generous check without the generosity of many in the community, from the people who attend the dinner (and donate) to the merchants and others who contribute wonderful items that help with fundraising.
Many ingredients go into the holiday baskets that will soon be delivered — and many in the community contribute to those ingredients, McConnaghy said.
Some of the local contributions include:
—Skaneateles Elementary Schools students who do a food drive in the fall.
—Skaneateles High School students and clubs who bake cookies for the dinner baskets, along with many bakers in the community. These are packaged by the High School Interact Club.
—Robin Rulli Hess makes up gift baskets for all the families.
—St. James Church donated buckets that are filled with cleaning supplies.
—Skaneateles Rotary Club donates proceeds from its annual holiday dinner.
—Many members of the community adopt families, individuals, work place groups, school groups or book clubs.
—Local charity organizations Todd's Fund and Friends of Dave Pirro take middle school children shopping for toys that they donate to the holiday baskets.
—Numerous volunteers pack boxes, sort toys and gifts and help when the baskets are picked up or delivered.
McConnaghy said it "warms her heart" to witness how many people are willing to help others.
"We receive help from so many different places, we are fortunate that we get to see the generosity of our community first hand," she said.
Vote on this Story by clicking on the Icon