Moravia — Skaneateles and its surrounding towns and villages are known to hold numerous treasures of historical significance, both local and national, but some historical societies are more well-known than others. One of the more obscure repositories in the Skaneateles area is in Moravia, where treasures relating to President Millard Fillmore and First Lady Mary Todd Lincoln are currently on display.
It is a little-known fact that Millard Fillmore, the 13th president of the United States (1850-1853), was born in a log cabin in Moravia on Jan. 7, 1800. Fillmore served in the New York State Assembly, the U.S. House of Representatives, as state comptroller and as vice president to Zachary Taylor. When Taylor died in office in July 1850, Fillmore assumed the presidency.
The Moravia Historical Society has numerous Fillmore artifacts on display, including two of his personal steamer trunks, dishes and china from the Fillmore White House, the Fillmore family bible, a shawl given to Mrs. Fillmore by the emperor of China and numerous papers and letters. The items were donated to the society by Robert Scarry, a retired Moravia history teacher who wrote the biography of Fillmore.
Also currently at the society is an exhibit relating to First L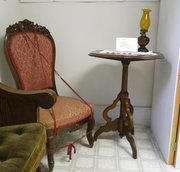 ady Mary Todd Lincoln, who visited Moravia (which has been dubbed the "Mecca of Spiritualism") for five days in 1872 for the purpose of consulting with spiritualist medium Mary Andrews.
Mary Lincoln had been a devotee of Spiritualism — the belief that the spirits of dead loved ones can be contacted through mediums and communicated with through table rappings and other noises — since the death of her 11-year-old son Willie in the White House in 1862. Mary traveled all over America in the 1870s to consult with spiritualist mediums, but said her time in Moravia, and subsequently in Auburn where she consulted with spiritual physician Dr. Hotaling at the National Hotel, were some of the most satisfactory consultations she had ever had.
(Continued on Next Page)
Prev Next
Vote on this Story by clicking on the Icon