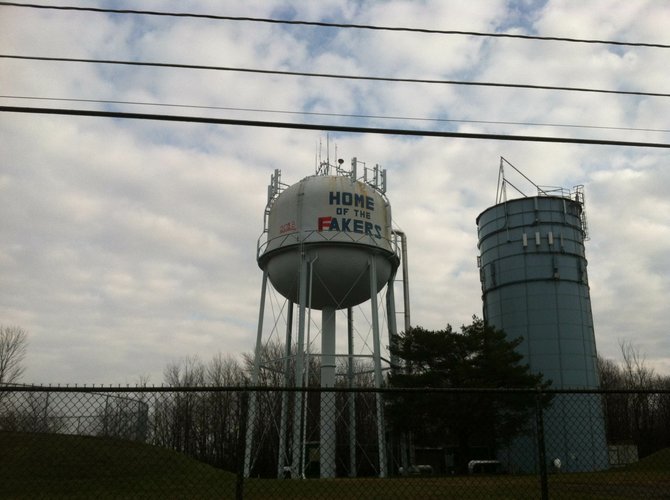 Skaneateles — The rivalry between Skaneateles and Cazenovia both on and off the athletic field has been longstanding, with the argument over who are the "real" Lakers being a sore spot. But last week someone took the fight a little far when they vandalized the village water tower and spray-painted the letter "F" over the letter "L" to make Skaneateles "The Home of the Fakers."
What may seem like a simple fix to cover over the red spray paint used by the perpetrators actually will cost the village – and therefore the taxpayers – thousands of dollars.
"It's really unfortunate that something like this has to happen," said Director of Municipal Operations Bob Lotkowictz. "Somebody had to make a great effort to get up there."
As far as Lotkowictz is aware, the tank has not been vandalized like this since at least 1985.
The vandalism occurred late Friday night and was reported to police Saturday morning, said Village Police Sgt. Marty Stevens. He said the department is following possible leads as to who the perpetrators were, including some leading to possible involvement by Cazenovia students because of the "Lakers" name controversy.
"The Cazenovia Police Department and I are working on it together," Stevens said.
Lotkowictz said the village DPW cannot cover the spray-painted "F" until the paint dries and the weather gets a little warmer, and even then it will only be a temporary fix. He said the village was planning anyway to repaint the water tank next year, but now they will have to sandblast the red paint off before they can apply the new coat.
"It will probably be a couple thousand dollars for the temporary repair," Lotkowicyz said. "The permanent repairs will be much more costly."
The high repair cost is because of the sandblasting necessary to remove the paint and the special type of paint needed to paint the tank itself, he said.
(Continued on Next Page)
Prev Next
Vote on this Story by clicking on the Icon