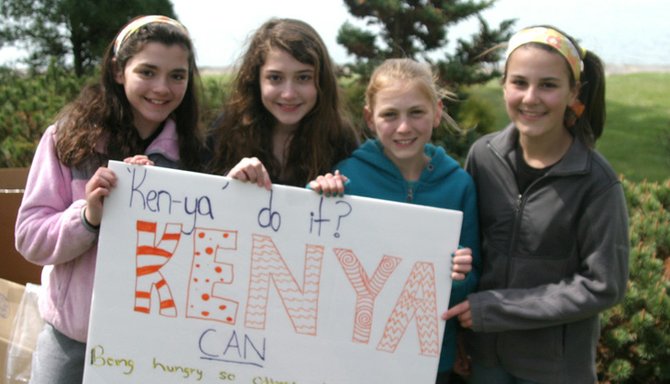 Skaneateles — What would motivate 42 teenagers to come together on a weekend, stop eating and spend their time learning about world hunger and how they can help?
"It feels good to do something for people less fortunate than us," said Mikaela Terhune, a participant of last weekend's "30 Hour Famine" event, an international collaboration to help raise awareness and funds for starving children all over the globe, sponsored by World Vision.
The 30 Hour Famine came to Skaneateles through the cooperation of local churches. Participating teens fasted from food, drinking only juices, during the 30 hours. They raised money by getting sponsors, with most goals being to raise $30, which would feed a child for a whole month in some countries.
The event began at 3:30 p.m. Friday, April 27, at St. James Episcopal Church, where 42 sixth through 12th graders kicked their fast off with a worship service. That afternoon they watched documentaries about children who go without food frequently and for extended periods of time. They were taught about how God sees hunger and how Jesus fasted for 40 days in the wilderness.
As St. Alphonsus churchgoer and Famine participant Victoria Nicholson said, "Jesus used a child's food to feed the people," and though their ability to help might be small, it is important, and each of their efforts to alleviate world hunger is meaningful.
The teens also took part in yoga meditation and walked a prayer labyrinth. In the evening, they enjoyed a dance party at the United Methodist Church of Skaneateles. They then returned to St. James Episcopal Church to sleep before resuming activities with a worship service on Saturday morning.
On Saturday, groups of kids raising money for Kenya, Bangladesh, Afghanistan, Zambia, India and Bolivia attempted to construct shanty structures in Thayer Park using only cardboard and tape. The groups had a certain amount of time in which to complete their "shanty town" before having a leaf-blower test each structure's durability.
(Continued on Next Page)
Prev Next
Vote on this Story by clicking on the Icon