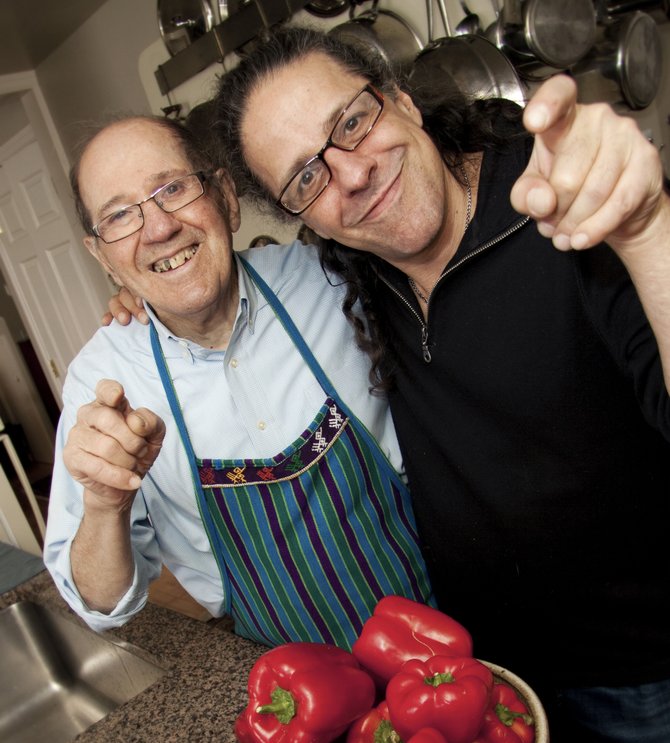 Skaneateles — George Rossi's email address gives a hint to his personality: pianna plunker. The pianist and mandolin player named his band "Little Georgie and the Shuffling Hungarians." A fun loving guy? You bet. He grew up in Skaneateles, lived and worked as a musician in New Orleans for 11 years, and has returned. His new venture is a video production company dubbed Queen Bee World Media, The Genuine Buzz. Its latest spin: COOKING!
He and his dad, Nick Rossi, a descendant of Neopolitan fishermen, have launched "You Eat What I Cook You," recipes Nick has taught his children and grandchildren to prepare through the years.
They are not compiled in a book, instead they are available through the Internet at such sites as Twitter, Facebook and YouTube. There, readers will come upon titles such as "Scrubbada Clams, Shuckada Clams, Choppada Clams!," "We're All Clammed Up," "Garlic Philosophication," and "Zen and the Art of Clam Management," to name a few.
Presented in videos, you can download and prepare the family recipes from the Old World as the cooks, Primo (father) and Secondo (son), proclaim, "Looks so good...I wanna eat it NOW!"
George explains the collaboration this way: "My father is the most generous person on the planet, an 85-year-old guy amazingly embracing media techniques. I do these Internet things because I'm very compelled about the social network. I build a platform for other people to shine from. It's like writing a story as script in real time, as the actual movie appears in real time. I'm having so much fun with my dad."
So tweet, befriend and laugh along with the father-son cooking duo as the pair hug, kiss, kid and jostle each other while mugging for the camera as they scrub clams, mince garlic and chop tomatoes to stir up their authentic Italian recipes.
(Continued on Next Page)
Prev Next
Vote on this Story by clicking on the Icon