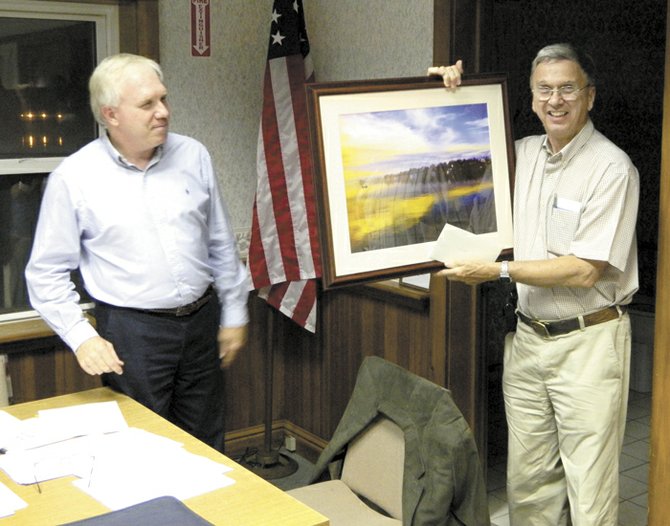 Skaneateles — At the Sept. 22 meeting of the village trustees, two local laws were passed, new appointments were made, and a Halloween race approved.
The village board of trustees approved Local Law No. 1 of 2011 to amend the village zoning code. The change splits the code enforcement officer position into two separate part-time jobs – one CEO and one Clerk of the Boards – and states that the CEO not be required to be a member of the Skaneateles Volunteer Fire Department.
Retired CEO George Batlle, who performed both jobs for 27 years, said when the law was written in 1989 it was though that having the CEO be an active firefighter would be a benefit. Now, however, firefighters require so many more hours of training than in 1989 it would probably be more of a hindrance to the position, Batlle said.
After passing the law, the board voted to accept the resignation of current CEO Elaine DuBois, who cited personal and family reasons for leaving. DuBois held the job for only seven weeks, replacing Batlle after his retirement.
The board then voted to appoint Batlle as the interim CEO, and then to appoint Fire Chief Eric Sell as the permanent CEO.
The board also announced that it is now seeking someone to fill the newly created part-time job of Clerk of the Boards, which is a position to serve as clerk of the village planning, zoning and historical landmarks boards.
The board will be accepting applications until Oct. 26 and make its hiring decision in early November.
The trustees also took the opportunity on Sept. 22 to recognize George Batlle for "his dedication to protecting the citizens of the village as well as protecting the village" for his more than two decades of service to the village, by presenting him with a Francis McCarthy photographic print and by donating $450 in Batlle's name to SAVES.
(Continued on Next Page)
Prev Next
Vote on this Story by clicking on the Icon