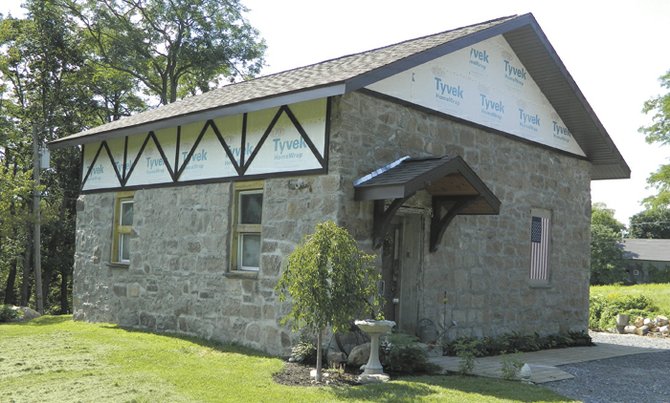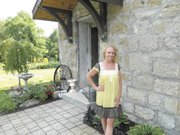 Spafford — Heather Bruno-Sears found the bones of an oxen in her front yard, a 1902 Indian-head penny by her front doorstep, a handmade glass marble in the interior dirt under the window, and a 19th century cast-iron toy pull horse in her garden.
She's not a treasure hunter, an intense antiquer or a "pawn star," but rather a lover of historic buildings who is restoring a circa 1814 one-room schoolhouse in Spafford one warm weekend at a time.
"This has been such a labor of love to me, and probably the accomplishment I'm most proud of — my little piece of historic legacy," said Bruno-Sears, a decorative artist raised in Spafford and currently living in Skaneateles who has been working on this project for the past three years.
"My mission is to save this little historic gem in the community," she said.
The building she owns and is working to restore is the old District No. 1 Nunnery School on Nunnery Road, one of only five original one-room schoolhouses left in Spafford, and the only one constructed of stone. It was built in 1814 and utilized as a school in the Skaneateles district until the late 1940s or early 1950s, although its exact closing date is unknown, according to the Spafford Historical Society.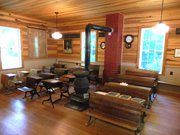 When Bruno-Sears first saw the building while taking a Sunday drive in 2008, it had a huge hole in the roof, crumbling walls, broken and missing windows, a dirt floor, an overgrown and out-of-control yard, and a "For sale by owner" sign out front. And she loved it.
"I grew up in an 1850s farmhouse in Spafford, and have always appreciated antiques and historic buildings," she said. But in the dilapidated Nunnery School she also saw — with the eyes of the professional artist that she is — the potential of the building to become a cozy, English cottage-style studio or artisan retreat. So she bought it.
(Continued on Next Page)
Prev Next
Vote on this Story by clicking on the Icon