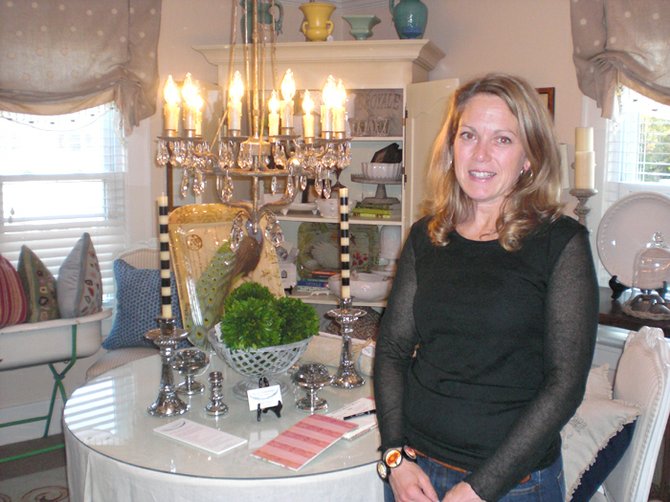 Skaneateles — From elegant candlesticks to stylish picture frames, the new Elan Interiors home boutique on 37 Fennell St. is sure to offer Skaneateles residents a variety of accessories that could spice up any home décor.
Boutique-owner Charity Swanson Buchika showcased her many home goods during an open house Thursday, Oct. 6, along with window treatment displays, fabric styles, and much more. Buchika, who has been an interior designer for 15 years, said she decided to open a boutique to provide more offerings to the community.
"I really find there is a lack of great accessories and furniture to be found around the Syracuse and Central New York area," said Buchika.
Aside from being a full service interior design firm, Buchika said Elan Interiors will also provide customers with personal shopping, hostess and house warming gifts, and seasonal/holiday decorating ideas. She added that the boutique will allow customers to buy home accessories on the spot or have Buchika come and accessorize their home with the items from the store.
"The boutique is a great resource for me because I have the resources here, and it's not something that people have to wait for," she said.
Anna Featherly, a friend of a Buchika, was also a shopper during the store's open house. Featherly purchased a hand-held, antique-like spool with twine and scissors that she said she had had her eyes on since seeing it in an old book. "I've always wanted one and never knew where I could get one," said Featherly, noting she later saw the item in an Elan Interiors flyer. "It's been my goal since then to come and get it."
Featherly said she was attracted to many of the items in the shop, particularly a decorative pillow, noting the styles were very "feminine" and "romantic." Although she said she's not the type of person who would hire an interior designer, Featherly said she thinks the boutique is a great way to showcase styles for people who are interested in hiring someone.
(Continued on Next Page)
Prev Next
Vote on this Story by clicking on the Icon