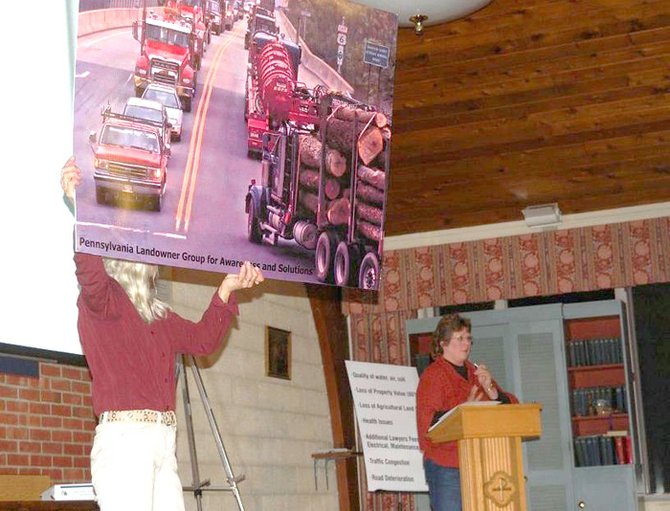 Skaneateles — Protesters carrying anti-fracking signs at Skaneateles First Presbyterian Church seemed to be preaching to the choir Wednesday at the "Hindsight is 20/20" hydrofracking presentation sponsored by the American Association of University Women.
Two farmers from Bradford County, Pa., Carolyn Knapp and Carol French, came to Skaneateles to discuss their experience with the Pennsylvania gas industry. While they claimed alliance to neither pro nor anti fracking, Carolyn and Carol clearly warned of what they called a "community divide."
"Carolyn and I have chosen not to label ourselves whether we are pro or anti gas," Carol said. "We are simply living in a time of miscommunication, succumbing to misinformation while our safety and well-being are in question. Because of this, we are seeing our communities become divided. Some have drawn the line and will not budge on either side. Everything has become black and white, no one has taken the time to explore the grey issues. The result has become a divide in our community. And our communities need each other's support the most."
Carolyn and Carol have first-hand experience with hydrofracking. They are both Bradford County dairy farmers. Carol runs a conventional dairy operation, Carolyn an organic farm. Both agreed to lease property rights to the gas industry for hydrofracking purposes.
It was standing room only for latecomers as the pair began their presentation, discussing the changes their rural community has faced "since the gas started."
Since drilling began, the area has been hit hard economically. Residents have seen the cost of living skyrocket as a fleet of workers flooded the sleepy, rural community.
"Rentals went from $350 to $1200 a month," Carol said. "That's just for a one room apartment." Food prices have also increased, as have taxes.
Law enforcement and emergency services are also feeling the burden of the quickly expanded community.
(Continued on Next Page)
Prev Next
Vote on this Story by clicking on the Icon