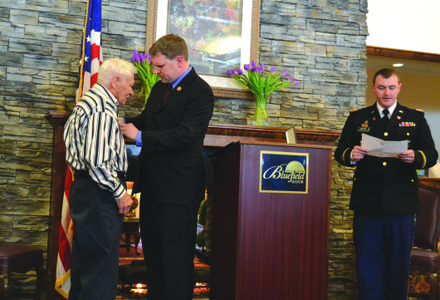 Wed

Thu

Fri

Sat

Sun

Latest stories
Skaneateles Central School District is turning to the public to ask for input as it evaluates its communication.
The Skaneateles School District's current estimates have it short of breaking even for its 2014-15 operating budget, Interim Superintendent of Schools Judy Pastel said at a March 4 school board work session.

"Thanks," was all Richard Faulkner felt he needed to say when asked if he wanted to say a few a words to the crowd gathered at Bluefield Manor in Auburn on March 8. Faulkner was presented with a Purple Heart medal, the U.S. Military's recognition for veterans wounded in combat, an honor he originally refused following his service as an airman in World War II almost 70 years ago.
Town officials are working on a five-year plan for development of the Skaneateles Falls hamlet as well as nearby areas. The Town Board discussed some of the projects proposed in the plan, including improvements to Skaneateles Falls Playground and a "rails to trails" project, at its March 6 meeting.
When Carol Stokes-Cawley made the decision to run for the vacant trustee position in the village of Skaneateles, it wasn't because she wanted to start a career in politics, it was out of interest in getting more involved with the community.

There are at least two reasons that it seems difficult for people to reflect on the pending retirement of Dale Bates, district business manager and assistant superintendent at Skaneateles Central Schools. First, they grieve at even the mention of his departure. Second, they find it difficult to summarize the magnitude of his impact on the Skaneateles Central School District — and thus, the entire Skaneateles community — over the past 30 years. In short, Skaneateles would not be what it is today without the man who played a pivotal role in making the district great.
Located in the heart of Skaneateles, Riddler's News, Confections and Tobacco store will be closing in March of this year. Riddler's is known for selling nostalgic candy, newspapers, lottery tickets and tobacco products, along with various toys, souvenirs and trinkets.

Skaneateles High School students will be giving six performances of this year's musical, "The Secret Garden," this week in the high school auditorium. Following a senior citizen performance Wednesday afternoon, performances will be at 7:30 p.m. on Thursday, 7:30 p.m. on Friday, 2 and 7:30 p.m. on Saturday and 2 p.m. Sunday.

As controversies over Common Core and mandated standardized tests become more and more prevalent, many parents are choosing a new option in educating their children: homeschooling. Once the sole province of the very religious, homeschooling is becoming more popular every day, with a growth rate of 7 to 15 percent per year. Nationwide, about 2 million children learn at home instead of in a brick-and-mortar school, up from about 1 million in 2003. According to the U.S. Department of Education, about 88 percent of U.S. homeschool parents express concern about the school environment, citing drugs, negative peer pressure and general safety.
Skaneateles town officials weighed pros and cons, expressed opinions and discussed options for a possible relocation of the town offices at a work session held on Feb. 24.
First phase of project to improve water pressure to be completed this spring
The Skaneateles Village Board voted to award the bid for its East Street water system improvement project, at its Feb. 27 meeting. The bid was awarded to Elbridge-based Highlander Construction for $232,750. They were the lowest bid out of 14 applicants, Village Mayor Marty Hubbard said.

Students experience full immersion while living with local families
Picture yourself clambering over ancient Mayan pyramids deep in the jungle, scrambling up an active volcano or wandering through orderly rows of red berried coffee trees.

Kinship caregivers get support through statewide program, private pro bono clinic
When parents can no longer take care of their children, what happens next? Many times, relatives will step in, typically grandparents, to raise their son or daughter's family. The reasons for kinship care are multiple and rarely, if ever, positive.
The 2014 DeVesty-Williams Scholarship will be awarded in early May by members of the Syracuse Press Club at its annual awards banquet. This $2,000 scholarship will be given to one full-time undergraduate student, who is majoring in print or broadcast journalism at a college/university in the Syracuse Press Club service area. The student scholarship recipient also must be a permanent resident of one of the following counties: Onondaga, Madison, Cortland, Cayuga, Oswego, Jefferson, St. Lawrence, Lewis, Herkimer, Oneida, Otsego, Delaware, Chenango, Broome, Tioga, Chemung, Tompkins, Wayne, Seneca, Schuyler and Yates. A student's college residence is not considered a permanent residence. All students who fit the above criteria are encouraged to apply.