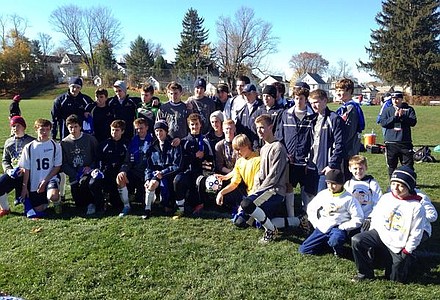 Tue

Wed

Thu

Fri

Sat

Latest stories
Placing a child for adoption is heartbreaking, but sometimes the best choice for the child
Carrie Howard was thrilled when she found out she was pregnant. "I always wanted to be a mom," Howard said. "I was living with my boyfriend and his family. I was 20 years old and was very excited when I found out." But things quickly went downhill. "My boyfriend didn't want to be a father," Howard said. "I ended up having to move out and back in with family. My family was supportive, but they were unwilling to have a newborn in the home. I found myself at a crossroads where I had no job, no home, no license or car, not really anything to offer a child." So Howard, a Liverpool native, decided to place her unborn child for adoption.
Annual turkey trot raises funds for food pantry
Eberhardt publishes book on the Sherwood

Community center plans expansion, upgrades
Board discusses parking meters

Skaneateles runner takes 27th, five spots ahead of J-E's Gugel
She's led the Skaneateles girls cross country team all season. And the running community around the state took proper notice.

Big first half by Tuckers ends Lakers' championship run
Months of work, and years of dreams, accumulated by the Skaneateles boys soccer team went into its 2014 run to the state Class B final four in Middletown. But it only took a few minutes for the ultimate prize of a state championship to drift far away from the Lakers' collective reach.
Work displays local talent
District looks at ways to enhance physical and emotional well-being of students
Group looks to share ideas on solar power opportunities

Owen gay wins writing contest

Grants to help purchase new equipment
Starting Friday, Nov. 14, Central New Yorkers can visit Onondaga Lake Park and take in one of the biggest light shows in the Northeast. Lights on the Lake kicks off its 25th anniversary season next week. The event draws somewhere around 35,000 cars each year.

Onondaga County Comptroller Robert Antonacci has failed in his attempt to become the state's next comptroller. Antonacci, a Republican, earned 55,155 votes in Onondaga County to Democratic incumbent Tom DiNapoli's 66,602. Statewide, Antonacci said he earned more than a million and a half votes, setting a record for an Onondaga County candidate.